On Sunday December 6, 2015, World Childhood Foundation USA, Actress Rosario Dawson and Chef Marcus Samuelsson joined 700 children and their guardians from Harlem at Columbia University's Miller Theatre for the third annual Community Holiday Celebration and Toy Giveaway. Childhood USA invited Daredevil co-star, Rosario Dawson, and the owner of the Red Rooster Restaurant in Harlem, Marcus Samuelsson, to help launch HRH Princess Madeleine's #EyesWideOpen social media initiative in Harlem.
After launching our Child Protector Tool Kit for adults on November 20 for Universal Children's Day, ThankYou by Childhood brought the #EyesWideOpen campaign to Harlem for the holidays. "The #EyesWideOpen initiative aims to break the silence surrounding child sex abuse and to educate adults and children about this problem," said Dr. Joanna Rubinstein, President and CEO of Childhood USA. "It is by empowering the communities, like Harlem, to become guardians of children that we can best contribute to end the cycle of child abuse."
Chef Samuelsson agreed, "The fact that child abuse isn't a larger priority is discouraging. The #EyesWideOpen initiative can help us to open our eyes and teach us how to provide a safer childhood for all, free from violence and abuse. This is our community and we have to protect it."
On stage, Co-Founder of ThankYou by Childhood Karini Gustafson-Teixeira encouraged everyone to take part in the campaign. "Everyone can join the #EyesWideOpen campaign by uploading a picture of their eye tagging #EyesWideOpen and Childhood USA on Instagram, Twitter and Facebook." She added that they should, "then visit the Adult Digital Tool Kit to learn how to identify, prevent and protect children from sexual abuse."
"All of us must to have our 'eyes wide open' to ensure that children are protected from sexual abuse," noted Ms. Dawson. "In US alone, we have 42 million survivors of child sex abuse. With the #EyesWideOpen initiative we can help to mobilize our community to become champions for children."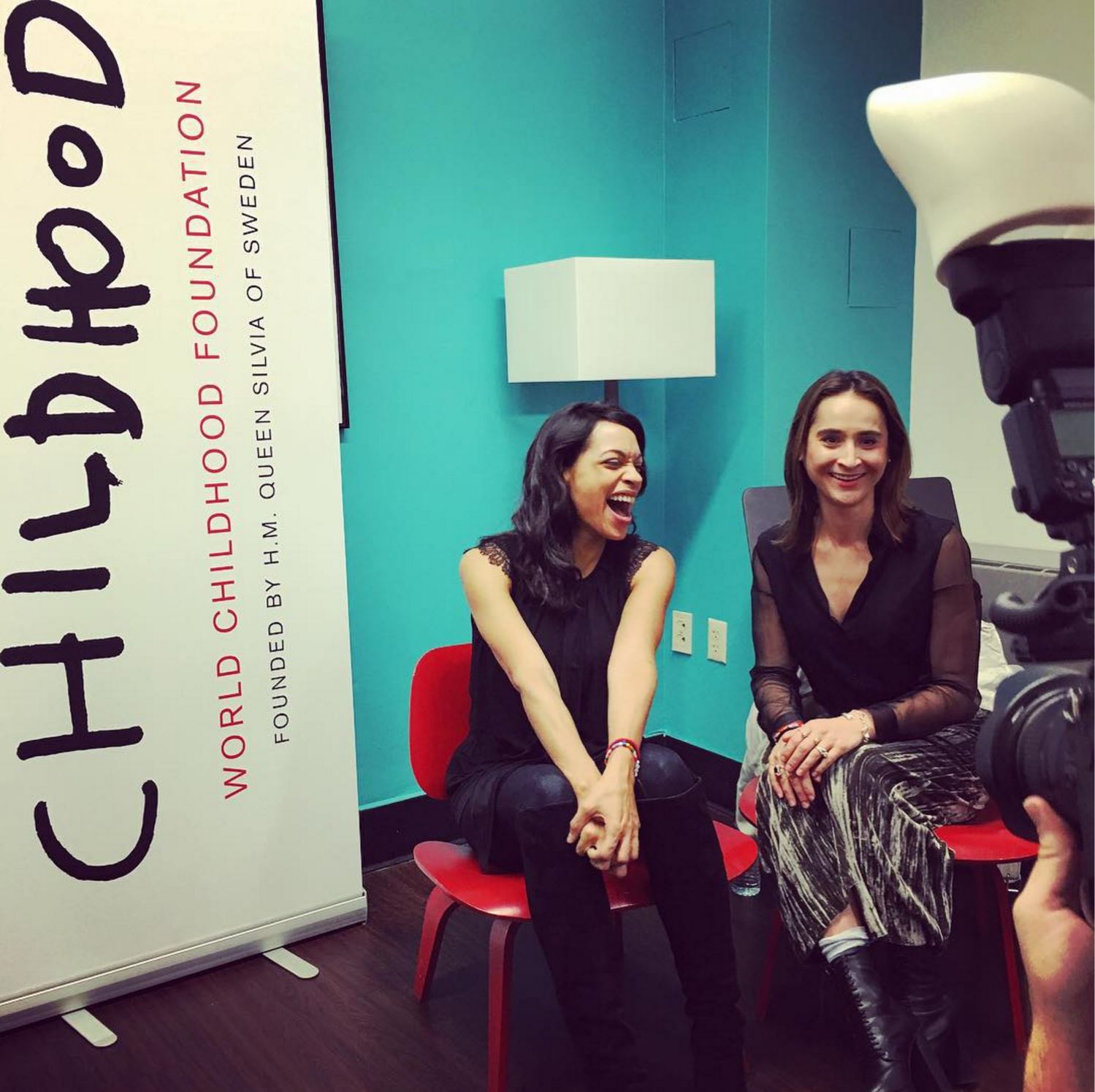 ThankYou also organized a young artist contest for the children in attendance on the theme "every child deserves…" The best drawings received prizes from H&M and special awards distributed by Rosario Dawson, Marcus Samuelsson, Karini Gustafson-Teixeira and Joanna Rubinstein. Everyone in the audience also received Childhood bracelets and colorful Happy Socks in their gift bags.
Childhood USA would like thank Rosario Dawson, Marcus Samuelsson, H&M and Happy Socks for helping make this holiday celebration brighter for the youth of West Harlem and spreading the #EyesWideOpen initiative! We would also like to thank the West Harlem Development Corporation for inviting Childhood to participate in this community event.